Looking for the best local chauffeur service for wine tours in Indianapolis? Our local team can help!
Top-Rated Wine Tours In Indianapolis, IN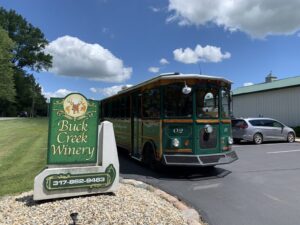 When you are looking for the perfect afternoon outing with friends & family, a Wine Tour is the perfect fit. Allow our team of professionals to navigate the way to some of Central Indiana's most favorite Wineries! You can sit back, relax and enjoy the day while we navigate, take care of the parking, and coordinate the schedule. We also provide top-rated Indianapolis brewery tours!
A chauffeured wine tour can be an excellent way to experience the best of the Indiana wine country without worrying about transportation or logistics. With a professional driver at the helm, you can relax and enjoy the scenic countryside and the delicious wines without the stress of driving. Additionally, chauffeured wine tours often provide access to exclusive wineries that are not open to the public, allowing you to taste unique and rare wines. You can also learn more about the wine-making process and the history of the region from knowledgeable guides, making the tour both educational and enjoyable. Overall, a chauffeured wine tour in Indianapolis, Indiana can provide a luxurious and unforgettable experience that is perfect for wine enthusiasts and anyone looking for a relaxing day out.
Visit The Top Local Indiana Wineries Such as:
Easley Winery began as the dream and vision of Jack & Joan Easley in the late 1960's. Making wines as a hobby in their basement in Indianapolis, Jack and Joan dreamed of growing grapes and making wine in Indiana. Jack was an attorney and Joan owned her own market research business. After learning it was illegal to make and sell wine in Indiana, they invested in a small vineyard in southern Michigan. The long drives on poor roads quickly became old, and Jack & Joan decided to see if the Indiana prohibition laws could be changed. Fortunately, there were other dreamers in Indiana such as Karl Banholzer, Mike & Liz Mancuso, Mary & William Oliver, Ben & Lee Sparks and Dr. Don McDaniel.
From 1991 until 2006, our Owner and Vintner Jeff Durm grew grapes, sold grapes, and made wine in his basement.  In April of 2006 we opened our doors to the public and began to share his efforts with the world.  We've won 148 Medals at the Indy International Wine Competition along with numerous other awards.
We have two separate vineyards that we planted and we personally manage in Shelby County, Indiana.  We started planting vines in 2014 with approximately an acre, on our home property in New Palestine that year.  In the spring of 2015, we added an acre and a half to that vineyard, (now known as the north vineyard), and an acre on our property in Pleasantview, (now known as the south vineyard).  Spring of 2016 came and we added on again.  This time, about a half acre to the north vineyard.  The fall of 2016 was our very first harvest.  Small, but very exciting.  The north vineyard was added on in the spring of 2017.  Between our two vineyards, we have 5 acres of vines and several different varietals.
About Our Wine Tour Company- Indy Trolley
The idea for the local chauffeured transportation company of Indy Trolley took root in 2012, when Jack Carr Boyd, a well-known and respected real estate broker who has lived in Indianapolis and central Indiana his entire life, was in San Francisco riding the streetcars. He thought- why not bring an authentic, nostalgic rail trolley car to Indianapolis, Indiana? The search began and Indy Trolley was born.
Indy Trolley is ideal for
wedding transportation
, brewery tours, prom transportation,
Christmas light tours
, wine tours in Indianapolis, a fun day on the trolley, wine tours, having a girls' night out,  brewery tours, as well as those special occasions that beg for a memorable experience from beginning to end. Jack says "Interestingly enough, oftentimes events begin and end by guests being transported on a mundane, utilitarian vehicle that offers nothing different than bus service." Our chauffeured Indianapolis wine tours strive to be the most memorable and fun way to experience wineries throughout the Indy metro!
Contact Indy Trolley today at

(317) 776-2121 for wine tours in Indianapolis or submit your info for a reservation below!